Recon Edit
The Recon Edit mode in Freeview includes tools which can be used to remove, add or alter the value of voxels in volumes loaded into Freeview. Recon edit differs from Voxel edit since Recon edit presets some of the parameters of voxel editing for convenience. In Recon edit, the brush value is set to 225 and the eraser value is set to 1. In addition, it also enables a "do not draw" on voxels that range from 5 to 250. For these reasons, Recon edit should be used instead of Voxel edit when making changes to data that has already gone through the recon-all process.
Recon edit mode is located just above the layer list and underneath the menu bar, or can be found under Action -> Recon Edit in the menu bar. Alternatively, you can use the shortcut key Ctrl+E.

Selecting Recon Edit mode will prompt the Recon Edit pop-up window to appear, which will look like the following: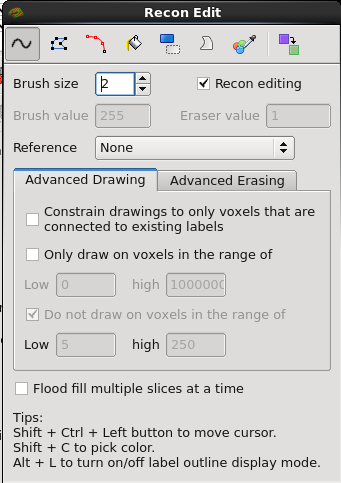 For an explanation of the different options in this menu, see the VoxelEdit page.
---
Examples Using Recon Edit