See also AdniReconNotes
ADNI Download Notes
Notes on how to download ADNI subject data and incorporate into our local copy, which is found here:
cd /autofs/space/mreuter/ADNI
The main ADNI site is here: http://adni.loni.ucla.edu/
It is necessary to obtain an account with them in order to download data from the LONI site, which is here: https://ida.loni.ucla.edu/login.jsp?project=ADNI
Previous Download Date: 6/25/18
---
Downloading Scans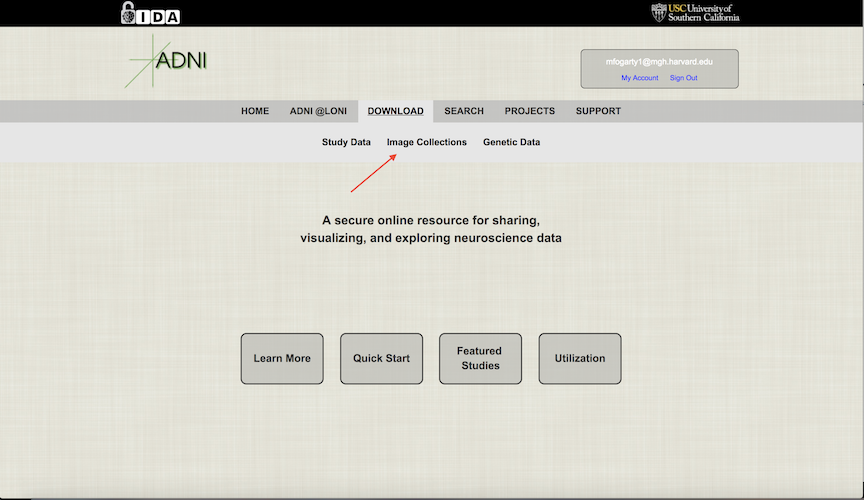 Once on the Image Collections page, select Advanced Search. This will bring you to the location where you can select parameters for the data you wish to download.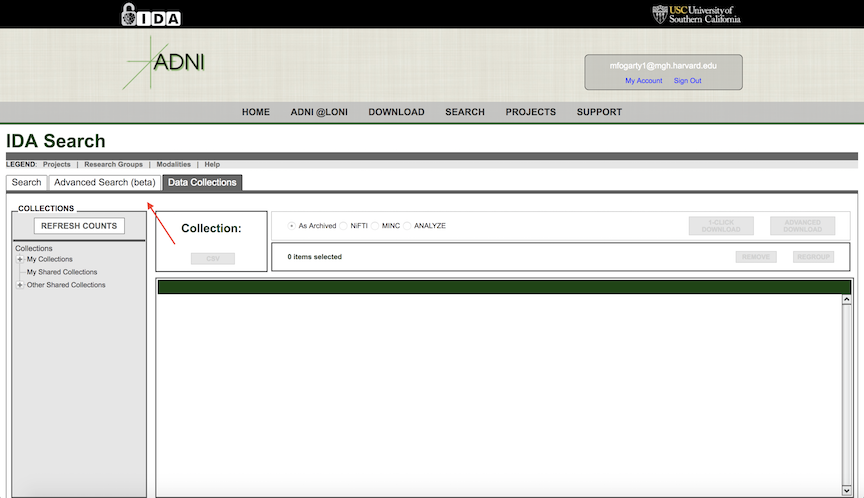 On the Advanced Search tab, there a few parameters that were previously used to download the data. First, for the Study Date, click the dropdown and change it to "Between", then enter the date of the previous data download in the start date, and the current date in the end date. Make sure to record the current date so we know for future downloads. Next, for the Image Description, you will need to search twice using different criteria for this field. Search once using "N3m" and again using "scaled". Finally, under Image Protocol -> Weighting, check the box next to "T1".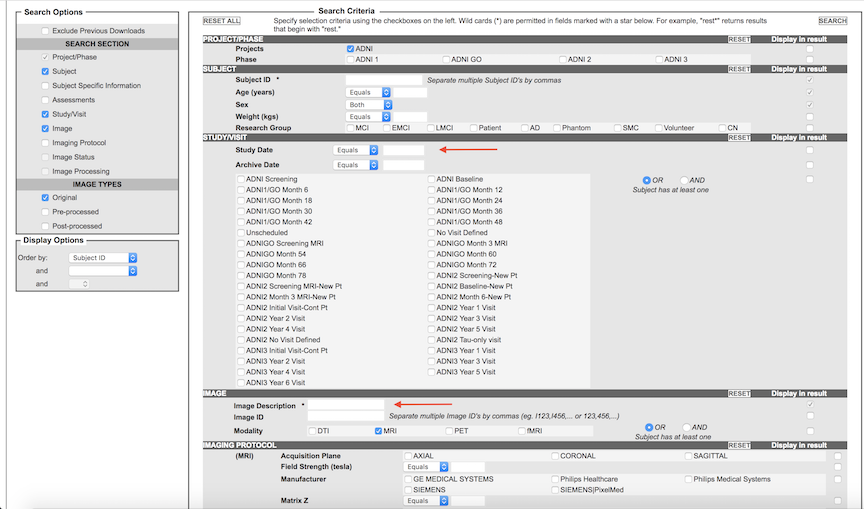 Once the search results load, select the scans you wish to download and add them to a new image collection.
After you have all the scans in the image collection, download the csv file associated with the image collection. This file is important because it contains information regarding the image ID, subject ID, group, age, and more.
Finally, select the images from the collection you wish to download and click the "Advanced Download" option. NOTE: You will be provided the option to download the zip file as a single file, five files, or ten files. Select the download that is appropriate to the file size and download time. I had the best luck downloading as five zip files. Also, check to make sure you have the necessary amount of space in your downloads directory. These files are quite large and the download will stop when the directory is full.
Move the zip files from your downloads directory to the appropriate ADNI directory
Unzip the files. NOTE: When unzipping the files, a new "ADNI" directory will be created in the location you are unzipping to. This "ADNI" directory contains the subject IDs as directory names and within these directories are the scan files associated with the subject ID.
Downloading Study Data
It's also important to periodically check the study data to ensure that we have all the relevant data. To download study data, click the "Download" section on the top bar and select "Study Data". This will bring you to a page that contains all of the important study data for ADNI. The most important sections are enrollment, demographics, study info, and imaging. In these sections you'll find all the relevant demographics information and information regarding the scanning parameters.