Looking for a new Freesurfer T-shirt
We are looking for a design for a new Freesurfer T-shirt!
To mix things up we would like to make a small competition out of it for the best design. The winner will receive a free Freesurfer T-shirt with his/her own design on it.
The rules are:
Brainstorm and create a new design. It can either be an image only or only text or both.

The colors used need to be block colors (no shading [i.e. an inflated surface from tksurfer will not work]), since that is needed to facilitate printing on a T-shirt later. Also less colors means the T-shirt will be cheaper, but 3 colors were ok last year. Also here is a description that explains why simple colors are better: http://www.quickdraw1.com/tshirts/aboutscreenprinting.htm

And if you want help designing a shirt or to get some ideas, you can use the t-shirt designer on the website of the t-shirt company we buy from: http://www.hemlockink.com/design/

If you stick to basic colors, we would do screen printing. If you require a more complicated design, we would have to do digital printing (which is more likely to fade with washing). Here you'll see what colors can be used: http://www.hemlockink.com/design-online/screen.php

It needs to be independent of T-shirt shape or color, since those will be chosen later. But you can of course come up with a suggestion of your own and you can save on colors if you make the color of the T-shirt a color you would have used. For example, if you wanted to print the American flag, you could use a white shirt and then you only need to screen print 2 colors: red and blue. You could have also used a blue shirt and printed just red and white.

The deadline for the submission of a design is June 1st. Upload your design to this Wiki page under New designs or e-mail your design to ganz@nmr.mgh.harvard.edu and we'll upload it.

Here is information on the artwork requirements for screenprinting:
Format
Files at size to be printed, at 300dpi in Photoshop, Illustrator vector files, High resolution JPEGs, and bitmapped files are ideal. If your art is in another format don't worry, we can probably use it or even re-create it if necessary. Word documents, and Powerpoint slides will not work, but if they are converted to .pdf files they will. Low resolution files and images from the internet will not work. A good rule of thumb is if it looks good on your screen at the size you want it printed, it will look good on your shirts; if it looks bad on screen, your shirts will not look as good as possible.
Sizing
Generally, a line of text is between 10-13″ wide, depending on the size distribution of the shirts. A full front image is usually between 7″ and 12″ wide, depending on the height of the design. A left chest print is generally between 3.5″ and 4.5″ wide, again, depending on the height of the design.
Have fun,
Lilla, Melanie & Priti
Old Designs
The latest Freesurfer design was the following: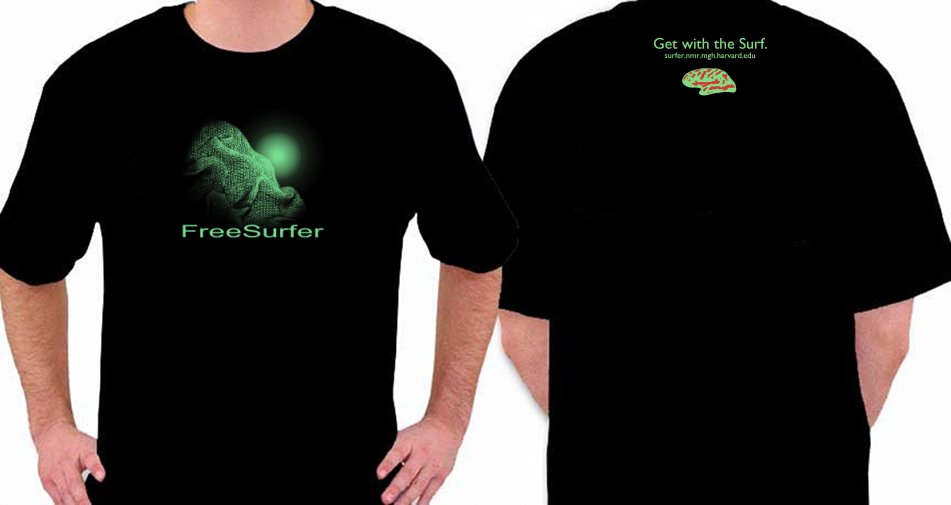 Some other older designs were: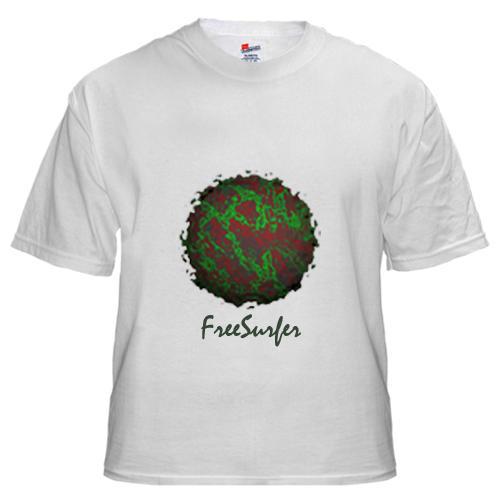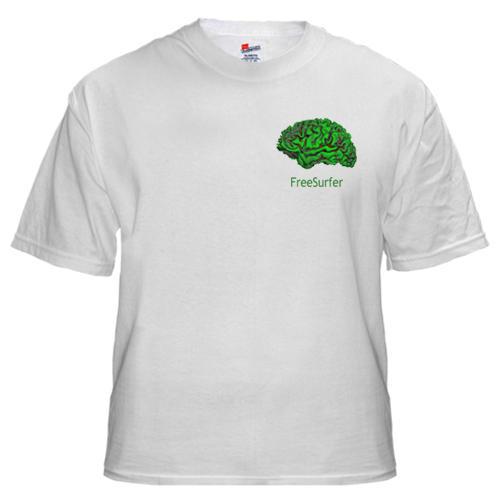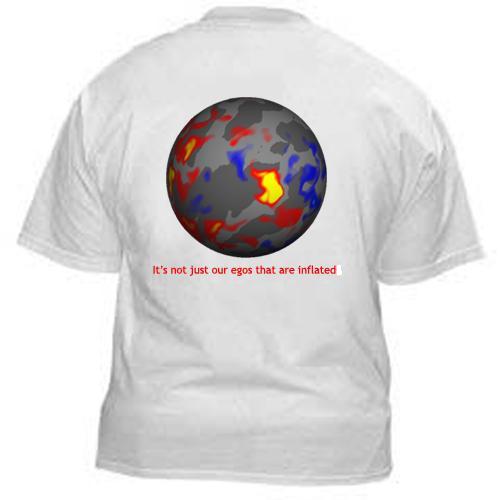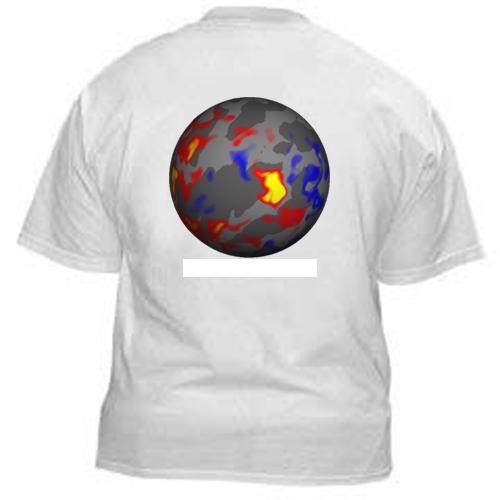 New Designs
Our first design for the contest was submitted by Bruce: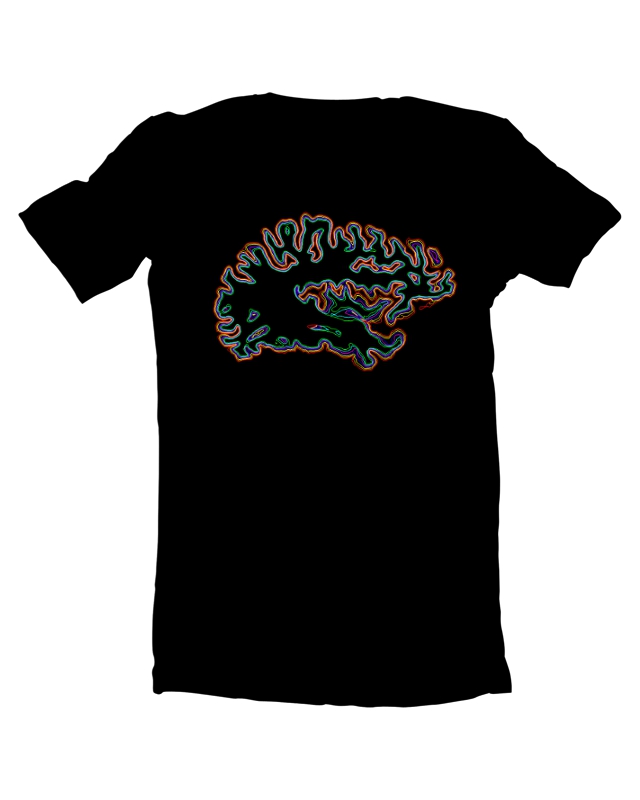 Allison submitted another one, still in progress: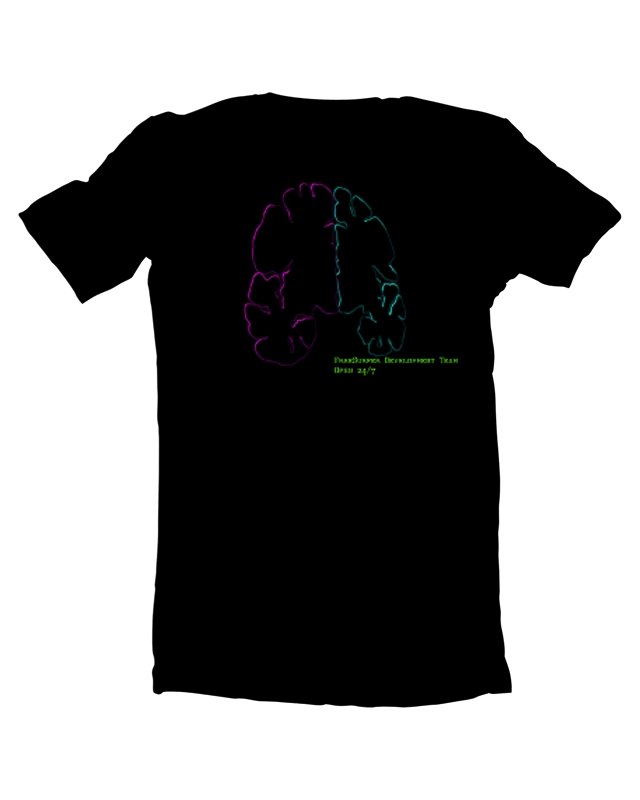 Melanie also had a try: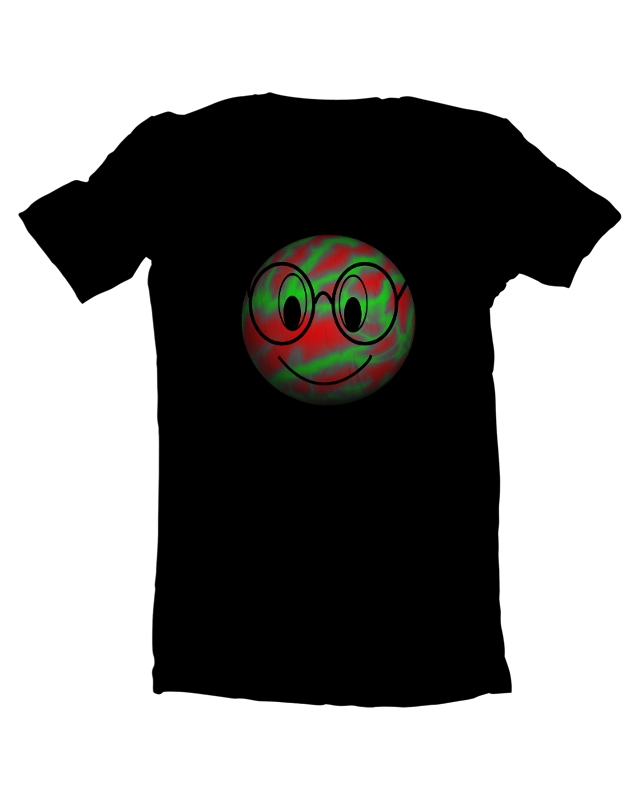 And Martin as well: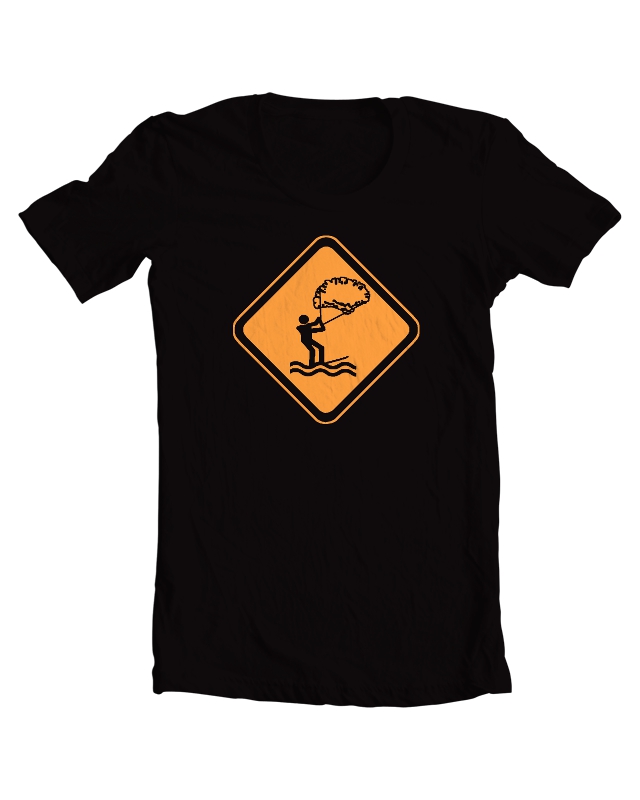 And now Priti also submitted a design: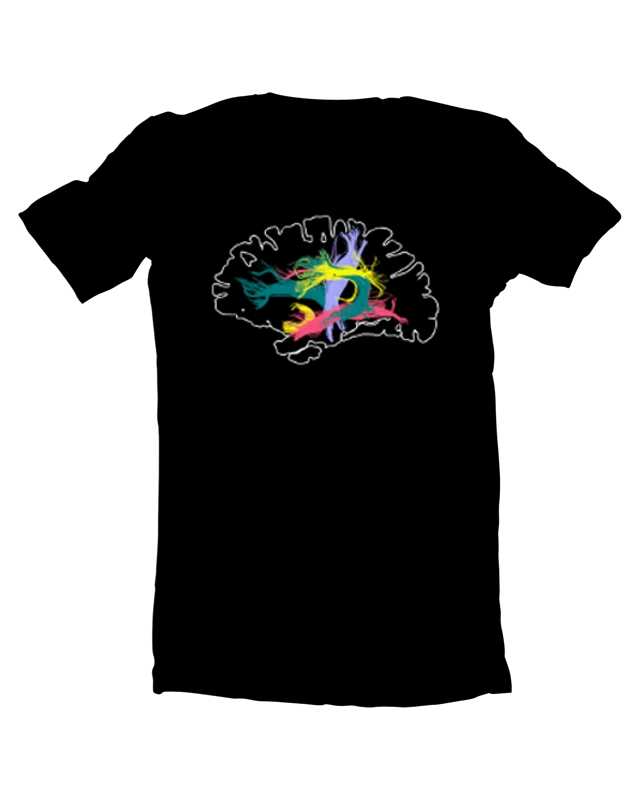 Another contribution from an unknown source: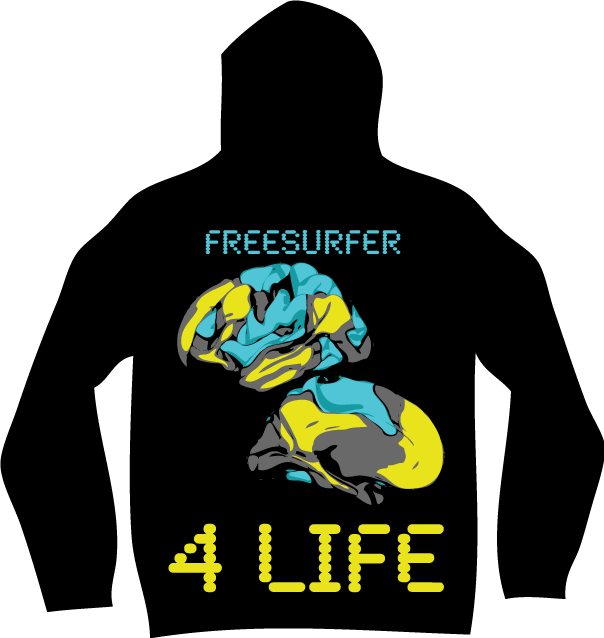 And LZ gives it a shot as well: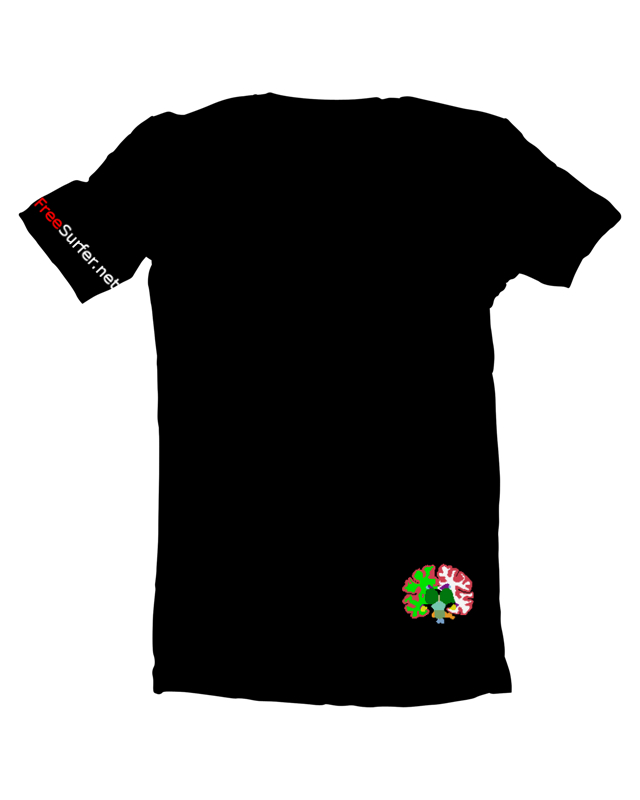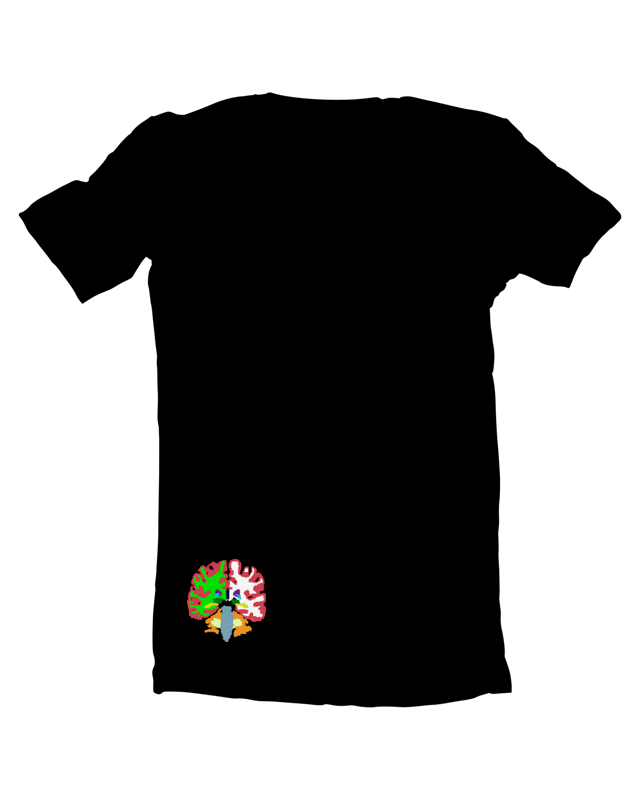 And a second time: