Transform Volume
To use the transform volume tool, select the volume that you want to work with in the Tools Panel. Select from the top menu the Tools > Transform Volume. This will provide you with a panel to specify rotation, displacement and scaling parameters. After specifying the required parameter values, hit Apply and then view the result in the visualization panel. You can undo the transformation by selecting Restore to Original. When you are satisfied with the transformation, you can save the resampled volume using the Save volume as... button or just the transformation matrix using the Save Reg... button.
When you save the rotated volume, sometimes the edges may appear to be cut off. The volume will not be cut off when you open it again after saving it. Updating the visualization of the volume on the fly within FreeView would cause the rotations to take a very long time so FreeView takes these shortcuts to keep it fast.
Important: If you rotate a volume with the intention of drawing an ROI on it, you must close the volume and open it again after the rotation before drawing the label on it. Otherwise the label will be saved in the volume's original space. This is a bug that is being worked on.
Rotate Options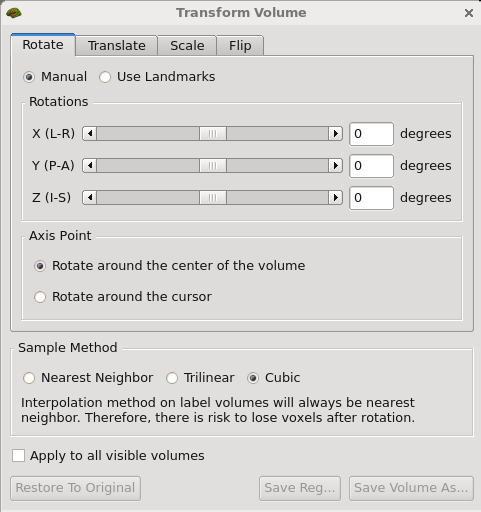 The rotate option allows you to rotate the brain in either the X, Y, or Z directions. The X direction is associated with left and right rotations, the Y direction is associated with anterior and posterior rotations, and the Z direction is associated with superior and inferior rotations. In addition to rotating in these directions, you can instead choose to rotate using landmarks as opposed to manual rotations.
Translate Options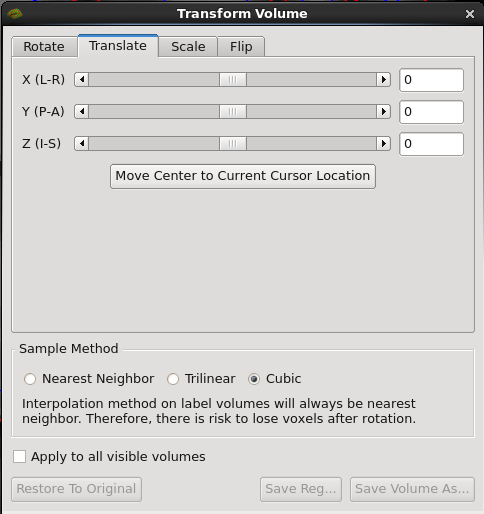 The translate option moves the brain in either the X, Y, or Z direction. Moving the brain in the X direction causes the brain to move either left or right. Adjusting the Y slider moves the brain in the posterior and anterior directions. Finally, moving the brain in the Z direction causes the brain to move in the superior and inferior directions. In addition, the "Move Center to Current Cursor Location" will automatically center the brain wherever the cursor is located.
Scale Options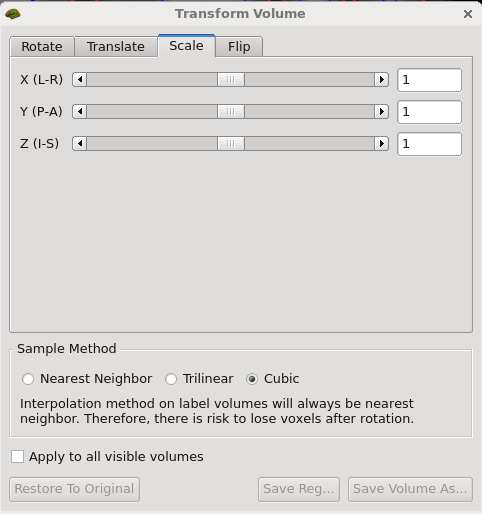 The scale options cause the brain to stretch in either the X, Y, or Z direction. These directions correlated to: X (left/right), Y (posterior/anterior), and Z (superior/inferior).
Flip Options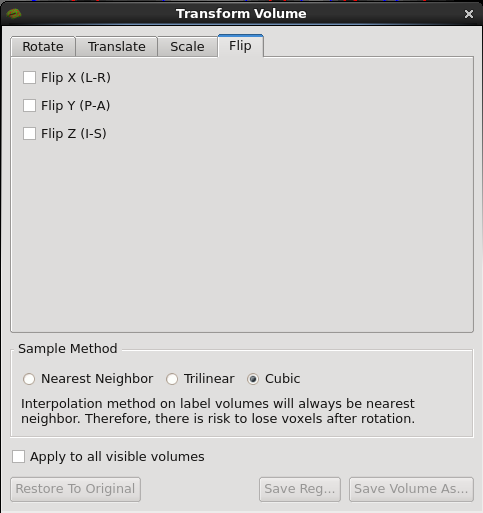 Finally, the flip options causes the brain to flip over the X (left/right), Y (posterior/anterior), or Z (superior/anterior) directions.